Safety Cabinet Re-Certification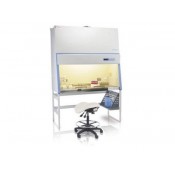 Upon request, we provide a proposal, information describing the program, certification requirements, timing and cost. Your acceptance and deposit initiate the formal certification process.
We generally start with product testing. Once we establish conformance to the standard, including review and approval of the product literature. Following the inspection, including any necessary corrective action, we certify your product.
We test to NSF/ANSI 49, which includes basic requirements for design, construction and performance to provide personnel, product and environmental protection, reliable operation, durability, cleanability, noise level and illumination control, vibration control and electrical safety.
In addition, the standard includes detailed test procedures and informational annexes, including recommendations for installation, field certification tests and decontamination procedures.
There are no products to list in this category.